Professional Video Color Correction and Color Grading Service
At Real Art Daily (RAD) Productions, we provide a variety of remote video editing services for independent filmmakers. Among the most important aspects of post-production editing is color correction and color grading, which can be overwhelmingly expensive for independent or low-budget filmmakers and intimidating for burgeoning directors and editors. Based in Los Angeles, but with professionals working all over the world, our experience in the film industry and our technical expertise makes our professional video color correction and grading service budget-friendly and dependable.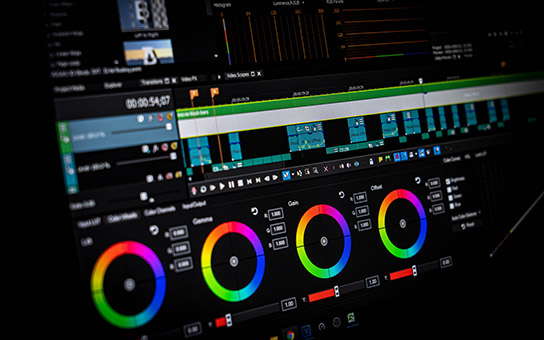 Why Is Color Correction or Grading Important?
Consistency, beauty, and mood are top priorities when it comes to video color correction and grading services. These are key features to improving the original footage for a polished product. 
The first priority is creating consistent color across scenes and achieving a clear and striking picture. Many videos also benefit from color grading to create atmosphere or suggest a theme. If you are trying to show a key color throughout your short film or video, from a gloomy blue wash to a frightening or passionate red, RADProd can help create the right impact upon your audience through color grading.
What Do Our Video Color Editing Services Include?
RADProd's services include both color correction and color grading, but many clients might wonder what the difference is between them, and what goes into each process.
Color Correction Service
Video color correction process  is the first and most important process in achieving a consistent and professional look to your footage. When filming scenes, there are naturally differences in lighting from shooting at the beginning of the day to the end.  It is important that the entire scene appears to be shot at the same time, to keep the audience believing in the story.  Often there are continuity errors affecting light and color across a scene's frames. Our video color editors account for and correct these differences, establishing true color levels and making all the shots consistent to these levels by adjusting brightness, hue, and contrast.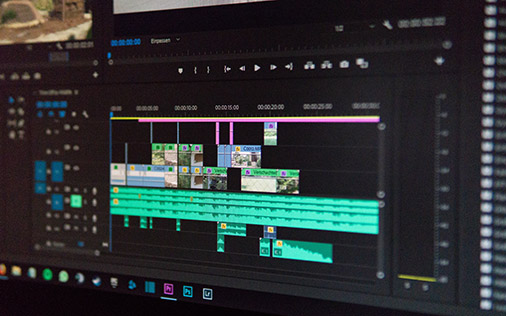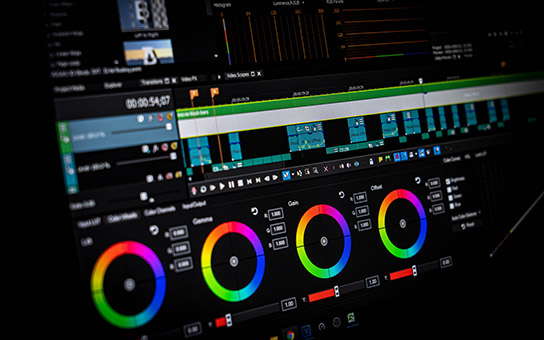 Color Grading Service
Color grading, on the other hand, is the customization of color on video to achieve an aesthetic or artistic goal. The first part of video color grading usually involves brightening certain colors to make the picture as visually pleasing as possible. The second part of color grading has more to do with your voice as a creator. Many movies are defined by their color grading, and it can be a key piece in conveying mood to your audience. If you are coming to us with an advertising or marketing video, bright and invigorating colors can be brought out with our color grading service.
For a more detailed explanation, check our blog post regarding the difference between color correction and color grading.
How Our Color Editing Process Works
Our services begin with a free consultation with the client to determine the specific needs for the project, including the type of video (marketing, music video, personal video or film) and your preferred look at the end of color grading. From there, we can begin planning the editing process and begin color correction. This process should largely be the same across different projects, as we start by matching the color of various shots in a scene by adjusting the hue, brightness, and contrast. Once all the shots and scenes are coordinated to have a consistent color story, then the more custom process of color grading can begin. This includes overall grading and color grading of certain shots, areas and even objects. We then send the footage back to the client for review, getting any feedback you have to make final corrections, and then present the final product!
Why Choose Our Color Correction & Color Grading Service For Your Video or Film?
Affordable & Quality Service
Our company understands the needs of small businesses and independent filmmakers because we are an up-and-coming production company ourselves. That's why we offer video color correction services starting at $40/hour while keeping our high standards so that you receive the best possible results.
Innovative & Creative Video Editors
Our remote color correction services are made great by our innovative and creative video colorists, and their technical skill and quality programs. Our services are unique because of our personal communication and attention across the company, allowing us to understand the needs of each project. We also pride ourselves on our dedication to diverse and original creative visions. 
Reliable and Dependable
Possibly the most important factor in choosing a remote video editing company is your ability to rely on that company. We can assure you at Real Art Daily (RAD) Productions, you will never be left wondering about our progress or deadlines. Thanks to our consistent communication and our dependable creative professionals and management, RADProd is the best choice for a dependable video editing company.
Colorful and Beautiful Past Projects
These characteristics can be seen in our own productions as well as our services, such as our award-winning web series Americans Abroad and music videos for "Just My Next Song" by Jae'Morissa and "My Dirty Heart" by The Room Beyond. 
Passion
 At RADProd, we absolutely love doing color editing and helping people make their visions come to life! We promise to treat your project like it is our own and put the same level of care and creativity into it.
Talented Film & Video Colorists Create The Right Environment For Your Content
Video color correction and color grading are essential aspects of video post-production service, but sometimes they are also necessary on their own as remote services. These can also be the most difficult or specialized post-production steps based on skill and technology, so it's important to look to professionals like Real Art Daily (RAD) Productions for assistance and creative collaboration. 
Some Video Editing Related FAQ
Q: How long does color grading take?
A: Depending on the type and length of video and quality of footage, independent color correction services can take as little as a week to complete for a short video. It does vary based on the specific needs for your project, the quality of the original footage, edits requested and the timeliness of feedback that our editors receive throughout the process.
Q: How much does a color correction cost?
A:Our company understands the needs of small businesses and independent filmmakers because we are an up-and-coming production company ourselves. That's why we offer video color correction services starting at $40/hour while keeping our high standards so that you receive the best possible results.
Q: What software do you use for color correction?
A:For color correction, RADProd uses Premiere Pro's exceptional Lumetri feature. This feature offers high-quality coloring functions that allow us to quickly coordinate colors and adjust them for the best picture.
Q: What software do you use for color grading?
A: For color grading we use DaVinci Resolve, with some of the best color grading tools of any video editing software. For example, it allows us to color grade a specific area or object so that it stands out or uses a key color effectively.
Q: What types of video do we work on?
A: We work on color correction for all kinds of videos, including independent films, music videos, digital series, youtube videos, wedding videos, marketing videos or advertisements and personal or family videos. Whether you're looking for professional color correction for your wedding video, travel video, or even an action video taken with a GoPro or drone, we can handle any footage.
Contact Us To Get A Free Quote