Online Video Editing Services USA: Bring Life to Your Raw Footages
There is no doubt that video editing is tedious, time-consuming, and challenging. Although it is easy to get frustrated with editing, it is one of the most crucial parts of making a video. Without editing, all you have is raw footage that is out of order. Here at Real Art Daily (RAD) Productions, we can take the burden of video editing off of you!
We are an online video editing service company in the USA. This means that if you are thinking about outsourcing your video editing, we can do it and we can do it all virtually!
Budget Friendly Remote Video Editing Service in USA
Many video editing companies in the USA start their services between $75-$200. And here at RADProd, we get it. That's expensive. You've already spent a lot of money on pre-production and video production, and you want something more affordable in post-production that's still extremely high quality. At RADprod, we pride ourselves on being able to provide professional video editing at an affordable price!
So, let's cut to the chase- we start our video editing at $40/hour.* This price can go up depending on the complexity of the project, but this price is a lot more reasonable than the prices others offer.
*Not an inclusive rate
Why Choose Our Professional Video Editing Company?
There are many other online video editing services in the USA, and it is difficult to weed through all of them and choose the best one for you. Here at Real Art Daily (RAD) Productions, we are certain to be the perfect match for your needs, and here are a few reasons why we stand out.
Inclusivity
We're about giving opportunities to creative talented people. We have a very diverse group of people who work here at RADProd that includes people of many different sexualities, gender identities, races, cultures, ages, and nationalities. We feel lucky to be in a position to hire incredible, unique individuals. We love being able to give opportunities to a wide range of talented and reliable people who enable us to do an awesome job!
Budget Friendly Service
RADProd is much more budget-friendly than others! We believe that it is extremely important to help and support America's indie filmmakers and small business owners. We offer great prices and great quality because we are passionate about art, the film medium, and the power it holds.
Creative, Talented Personnel
We have professionals on our team who are extremely talented in video editing here at RADProd and we promise to provide quality editing and become just as invested as you are in your project. Our remote video editors have the creativity, passion, and technical skill to provide exactly what you are looking for. We make sure that your files are protected and that you are satisfied with the final product!
Communication
We pride ourselves on our great communication skills. At RADProd, we believe that communication is the key to great success in projects. We will respond to your questions and thoughts quickly and thoroughly. RADProd is a remote video editing company, with many of us working at various times throughout the day. This way you won't have to wait several business days in order to get a response like you would with many other companies.
Our Creative Video Editing Agency to Make It Simple
Video editing is time-consuming and challenging, and it is important that it be done professionally. Here at RADProd, we understand the challenges that come with video editing and hiring a company to edit for you, and we want to make it a simple process for you.
We offer our online video editing services for various types of projects, and we promise to take the project on with the care and creativity as if it were our own. We offer a great price, good communication, safety, timely delivery, dedication, and openness.
Types of Video Our Editors Work with in the USA
Editing is required for all forms of video from advertisements, to wedding videos. Editing is extremely important when it comes to the final product and what the video conveys.
We understand that many people are looking for professional online video editing services. At RADProd, our video editors and management staff have the advanced knowledge and technique to be able to discuss your vision and execute professional edits to visually tell the story. We also understand that video editing is a difficult and confusing topic and we are here to make it simple for you with an impressive outcome.
Indie Films (Shorts / Features)
RADProd loves indie filmmakers and working on independent films. Our budget-friendly post production service is ideal for editing indie films, shorts and features. We will treat your film as if it were our own, and be extremely passionate about the message, story, and creativity needed to deliver your project to your audience.
Music Videos
Music videos are a great way to represent a song's story and enhance the experience of listening to a song. They are also great marketing tools for bands and singers looking to garner more attention. Having the right pace and vision is crucial to making a good music video.
YouTube Videos
Have a YouTube channel and want to stand out? YouTube is filled with millions of videos, so it is easy for videos to get lost in the mix, especially if they have subpar editing. Good editing is extremely important when trying to get views on YouTube.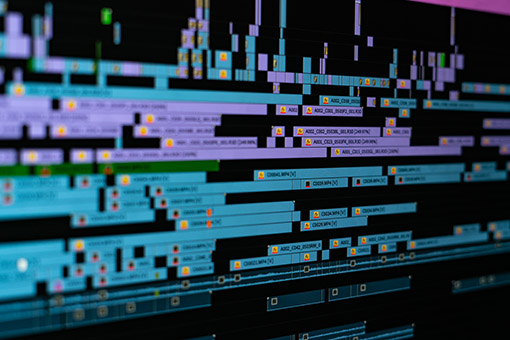 Video Ads
It is critical with video advertising, to have great editing. The level of professionalism when it comes to editing exudes the professionalism of the business. Consumers are more likely to buy your product or service when the advertisements are done professionally.
Our Additional Video Editing Services Online
GoPro Video Editing
Whatever adventurous journey you have captured through go-pro video and would love to piece together as a fun and exciting memory, we have the tools to bring it to life!
Wedding Video Editing
Wedding videos are an excellent way to remember such a beautiful and special day. It is important that all the great feelings that come with this day are portrayed through editing. we can edit the perfect video for you!
Real Estate Video Editing
In the United States, videos are of great use in real estate! When people are browsing for potential homes, seeing videos of the house gives home buyers a better idea of the house and impresses buyers.
Industrial Video Editing
Need a video for your business? This may be a training video, or many other videos that you may use for your business. We can edit industrial videos in a professional and timely manner.
Family Video Editing
Family videos are great memories, or gifts that you can give to someone or hold onto. We are able to work with professional video footage or phone footage old and new. Whether it be for birthdays, anniversaries, reunions or family outings, we will keep your family memories alive through video.
Video Animations
Video animation is a great way to tell a story, and catch people's attention. We love 2D animation at Real Art Daily (RAD) Productions and you can find more out about it here.
Some Video Editing Related FAQ
How Are My Files Protected?
At Real Art Daily (RAD) Productions, we have experience in video production, so we understand there is a lot of time and effort that goes into pre-production and video production. Because of this, it is extremely important to us that your files are protected. Files will be uploaded to a google drive as backup and regular backups made to premiere files at the end of each work day. This adds that extra protection to put your mind to ease, and assure the safety of your files.
How Do We Share Our Footage?
Raw Footage will be transferred via wetransfer, a simple, safe, and user-friendly site, to us. As we edit, there will be new cuts uploaded privately to vimeo for you to view each new cut. Once the final cut is finished, approved, and ready to go we will transfer the project back to you through wetransfer.
Is Music Included?
Royalty-free music will be used and included in the price. However, if you are wanting music composed for your project, our talented composer, Natalia, will be able to provide excellent original music to fit your project. Due to immense time and effort, custom music would cost additional.
What is the Turnaround Time?
Editing is time-consuming, and we want to make sure that we give you the absolute best product possible. We are dedicated to not rushing through your project, but also returning your project in a timely manner. Turnaround time is all dependent on the length of the project and what is required. We will make sure to work in a timely manner and get your edited video back to you before the deadline that works for both parties.
What Editing Software Do You Use?
At RADProd, we use Adobe Premiere Pro to edit videos. Premiere is the industry-standard program that produces quality, professional editing that is ideal for all types of videos. Our team is extremely talented and knowledgeable in Premiere.