Quality Services for the Indie Budget
We have a great passion for Indie Projects and for helping artists and small businesses achieve their goals and get their film and video projects out to the world!  We have a team of talented artists, animators, writers, musicians, composers, consultants, video editors and post-production specialists. We are made up of a diverse group of good-hearted people with a solid work ethic and a desire to create great art.  We want to help contribute to the success of your business and projects.
Don't do it alone. We're here to help!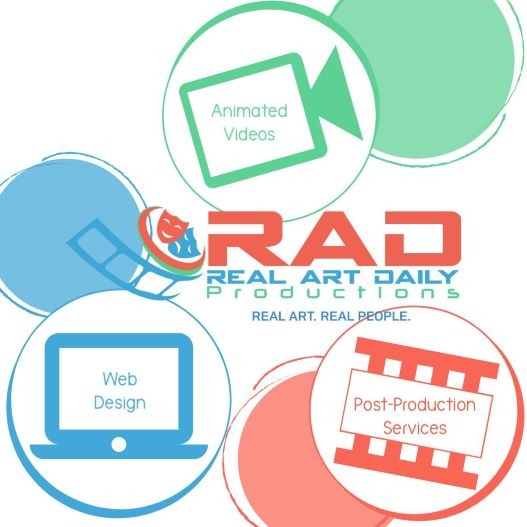 Real Art Daily (RAD) Productions serves small businesses, independent filmmakers, and individuals looking for post-production or 2D animation services that are RAD. Responsive. Affordable. Dependable.  
Our dependable post-production professionals can provide video editing, color correction, color grading and sound editing for your videos and films.  Our talented artists and animators can provide 2D animation services for your marketing videos and other film and video projects. We also offer 2D explainer videos for small businesses, for both advertising and training purposes.
We'll treat your project as if it were our own. We have a team of dependable, good-hearted and talented service providers that will deliver your project seamlessly.
Stay tuned for our expansion into Music Services later this year!
Also, we will be expanding to offer production services including music videos, once COVID-19 has passed and it's safe to film.
Animated Videos
Skyrocket your business with custom animated marketing videos!
We can also create animations for your video projects.
Post-Production Services
Our editors work with industry-standard software to provide video, sound, and color correction to your video and films.