The RADProd Family
We have a diverse team of talented, good-hearted & passionate individuals. Meet our current team members, who are instrumental in making the magic happen.
Natalia Bortolotti
Natalia writes and produces the music and score for Real Art Daily (RAD) Productions short and feature films. She is also the DP and writer for the company's upcoming Web Series.
Real Art Daily (RAD) Productions partners with Natalia's company to produce indie, pop and R&B music videos.
Natalia is the founder and Creative Director of Nebula Artist Development and Nebula Songwriting. Natalia is a former Warner recording and touring artist – including tours with Maroon 5, Gwen Stefani and Train.
Now a Warner songwriter/producer, she works behind the scenes, writing songs for recording artists and Film/TV/Advertising. She is also an accomplished Talent Coach, Music Business Consultant, Voice Actor, Filmmaker, Fine Artist and Author.
Alexandria Grable

Alexandria is from Oklahoma and currently living in Santa Clarita, CA. She will be assisting Georginna Feyst with her acting career. Alex is going into her second year at UCLA studying Business Economics and Film Studies. She is passionate about diversity in film. She loves all things Disney, Marvel, and Star Wars.
Hannah Seufert
Hannah is currently a senior at City University of Seattle studying Project Management majoring in Information Technology Systems. Her goal is to help RADProd by transferring her experience and knowledge from IT to Media Production. Hannah is an Active Duty Air Force member, assigned to Los Angeles Air Force Base. Hannah is passionate about bodybuilding, volunteering at local food banks, and spending time with her family and pups. In her free time, she enjoys hiking, camping, and trying every type of popcorn she can get her hands on.
Aarushi Chitagi
Aarushi Chitagi is a high school junior from Dallas, Texas. She will be assisting in managing websites for Real Art Daily Productions. In her free time she enjoys playing the piano, painting, baking, and hanging out with her friends. She hopes to major in computer science in the future.  
Sara Christiansen
Sara is Real Art Daily (RAD) Productions' web design and tech intern. She is currently redesigning Real Art Daily (RAD) Productions' website, and creating a new Fractured Atlas site page for the upcoming feature film project "Georgie". Sara also helps with software and hardware issues in the office.
Sara is a recent college graduate from California State University, Bakersfield where she studied Digital Media. She is now pursuing a Masters in software development and information technology at Liberty University.
James Anderson
James Anderson is a graduate student from Louisville, Ky. He hopes to complete his Master's degree in December of 2021 from Arizona State University. He will be joining the tech team to develop websites and maintain databases. In his free time, he likes hiking, baking, reading, and playing video games.  
Abdul Kader
His nickname is Ovei. He is from Bangladesh. He graduated from Military Institute of Science and Technology with a BSc in Aeronautical Engineering. He is a Digital Marketing/SEO intern in Real Art Daily (RAD) Productions. He is very curious about technology and loves to learn new things. He enjoys playing video games & travelling with friends.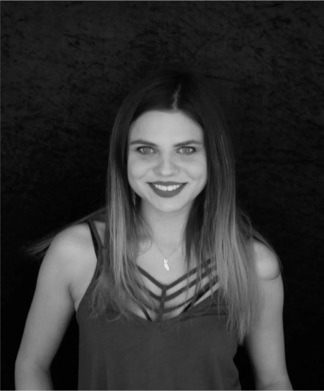 Selina Ott
Selina is Real Art Daily (RAD) Productions graphic designer and CGI Artist. She is an extended family member of Georginna Feyst, the producer and screenwriter for "Georgie" and is a member of the RADProd family.
Selina is a Swiss Graphic Designer since her college graduation in 2008 and, has, since been trained in CGI also, in 2016. Selina produced all of the marketing materials and a majority of social media and web content for Real Art Daily (RAD) Productions's recent theatrical production of "No Exit" 2017/2018. She also designed the logo for Final Wave Films, the all-female production company founded by Georginna Feyst. Selina loves movies and TV series and is really excited to be part of American Film Projects.
Selina's Skill set includes: CGI, Animation, Post Production (After Effects, Premiere Pro), Filming, Still images (Photoshop, Illustrator, InDesign) and Photography.
Taylor Guyton
Taylor Guyton is a former Military child and attends The University Of Tampa College. She is 22 years old and majors in Animation. She lived in Japan for a total of 5 years, as well as study abroad there. Her art is inspired by Japanese art and animation. Her hobbies are drawing, animating, reading, dancing, and a huge anime geek.
Irene Marsal
Irene Marsal is an intern in the RAD Prod animation department from Madrid, Spain. She is a graphic design student in ESNE University with a big passion for all things regarding the animation industry. She dreams of working full time as a 2D animator, but outside work she loves pizza, watching movies and playing video games!
Angelina Patron
Originally from Ohio, Angelina Patron is a junior at Arizona State University in Phoenix studying both Digital Culture and Animation. She will be working with R.A.D. Productions on the art and animations. In her free time, Angelina can be found watching Studio Ghibli movies or practicing the bass guitar. Angelina is very excited to be working with other animation lovers and can't wait to be a part of some amazing projects!

Lexie McDonie
Lexie McDonie is from Hebron, Ohio. She is a junior at Purdue University where she is majoring in Animation with a minor in Art and Design. She is excited to be part of the RADProd 2D animation team as an intern. In her free time, she loves to draw, create stories, game, and just hang out with cool people. Maybe one day her stories will be shared with the world!
Caitlin Navo
Caitlin Navo, born in Louisiana, is an intern on the 2D Animation team for RAD Productions. She graduated Louisiana State University in spring 2021 as a Digital Art Major. Her years of college allowed her to gain experience working on concept art, 2D and 3D as well as stop motion animation. In her down time, she enjoys horror movies and classic rock music.
Sanaa Shahzad
Sanaa Shahzad is a high school student from San Diego, California. During her internship, she will be assisting senior animators at RAD (Real Art Daily) Productions with concept art, storyboards, and animations. Outside of work, she teaches herself Japanese, Korean, Mandarin, and Thai, and enjoys her passion for ice skating. She  also likes to read memes and listen to music from different cultures.
Michele Lin
Michele Lin is a student studying in Washington, D.C. at The George Washington University. She is majoring in accounting and finance and will be assisting the RADProductions Business Unit Team as its new finance intern. She enjoys learning languages as well as playing volleyball during her free-time.
Ceren Erciyes
Ceren Erciyes is a 3rd-grade Business Administration student at Bilkent University (Turkey). She will help the team as a business administration intern. Her goal is to help RADProd by putting her best to improve both herself and the team. Her motto is "be productive, not busy".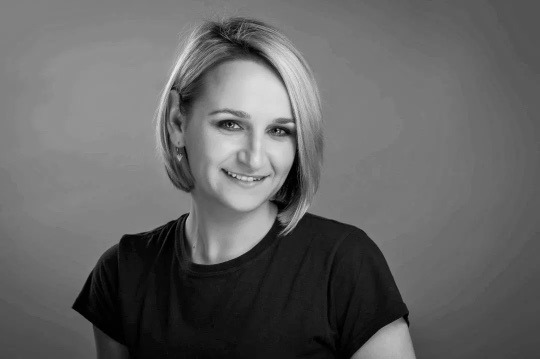 Victoria Venclovaite
Viktorija Venclovaite is originally from Lithuania and currently living in Killarney, Ireland. She is a Digital Marketing intern at Real Art Daily (RAD) Productions. Viktorija has a degree in Advertising and recently finished a course in Marketing Management.
 In her spare time she loves being outdoors and spending time in nature, enjoying activities such as paddle boarding, hiking and yoga. She also loves cooking and having friends over for dinner and drinks. 
Viktorija is very excited to start this new chapter of her life.
Meghan McGuire
Meghan is joining RADProd from Philadelphia as a Marketing team intern. She is
currently a senior at Temple University studying Media Studies and Production. Her goal is to help RADProd by contributing to creating and implementing strategic marketing plans. Meghan currently helps market the Reach rock climbing and fitness gym she works at by creating online content and advertisements. Meghan enjoys exercising, musical theatre, movies, video games, and Meghan also enjoys creating her own personal content on her YouTube channel as well.
Meghan is passionate about film making, but especially directing. She hopes to win best director some day and hopes to make movies that empower young girls like she has been by her favorites including Chloe Zhao and Greta Gerwig. She is excited about starting at RADProd this summer!
Gabrielle Abuyen
Gabrielle Abuyen is from Bakersfield, California and works at R.A.D. as a graphic designer on the marketing team. She is a senior at California State University of Bakersfield. Her main studies are fine art and digital media communications. She loves traveling, eating good food and all things pop culture.
Diana Chau
Diana Chau is a senior Professional Media student at the University of Central Oklahoma. She will be graduating December 2021. At RADProd, she will be collaborating with the marketing and social media team. She enjoys watching movies, swimming, and traveling in her free time.
Nadia Renane
Nadia is a senior at Dublin High School, originally from Denmark. She will be interning for the marketing and social media team in order to assist with marketing strategies and collaborate on various social media accounts. She has different creative hobbies she loves — such as traveling, hanging with friends, listening to music, and painting! She's super excited to be a part of the team!
Chance Settlemire
Chance Settlemire is a video editing intern for RAD Productions. He graduated from Southern Oregon University with a Bachelor in Fine Arts; majoring in Creative Writing with a minor in Emerging Media of Digital Arts (EMDA). He has a written piece of nonfiction published in a 2018 issue of SOU's Main Squeeze magazine. He aspires to write and edit for television and comic books.
Lacie Stevens
Lacie Stevens is a senior at Ferris State University and is from Bellevue, Michigan. She will be working as part of the production team at RAD Prod. In her free time she plays music and reads. 
Reese Milton
Reese is a student of Ferris State University in Michigan. He interns remotely assisting with post production of the Americans Abroad web series. He also helps with the pre-production of other projects here at RAD Productions. In his free time, Reese enjoys hockey, video games, and spending time with friends/family.
Neil Soni
Neil Soni is a passionate filmmaker from San Jose California who is currently attending Academy of Art University as a directing and editing major in Film and Television Production. He will be working in the post-production department as a video editor intern which is one of his strongest skills that he has acquired over four years as a full time film student and has worked on a variety of projects including music videos, documentaries, narrative films, TV commercials etc. In the future Neil wants to direct his own feature film in Hollywood and wants to see
himself as a successful director in the coming 5 years. His professors say that not only he has great communication skills but also he is also a good listener. They also attest that he is highly organised, punctual and has an excellent ability to follow direction.
Robert Nguyen
Robert Nguyen is an aspiring Video Editor currently residing in Los Angeles, who graduated Cal State Long Beach in 2019 with a degree in English Literature and Creative Writing, along with a Minor in Film and Electronic Arts. He will be joining the production team at Real Art Daily Productions. In his free time, he is usually playing beach volleyball or learning the guitar.
John Bachofer
John Bachofer IV is a 3D animator for the Yarnia project.
He graduated with an art and animation degree from Grand Canyon University in 2018 and developed a mobile app game in 2018.
His passion is 3D artwork particularly in the Science Fiction/Fantasy genre, who made his first science fiction mini-film at age 10 in 2005. His dream is to work as an animator for science fiction based video games.
Jason Clibanoff
Jason Clibanoff is from Newtown Pennsylvania, just outside the city of Philadelphia. He is a member of RADProd's rigging and modeling team. Jason got his BFA in Game Art at the University of the Arts in Philadelphia after previous studies in neuroscience at the University of Delaware and computer science at Bucks County Community College. He hopes to work on projects to entertain people for years to come. 
Evan Lee
Evan Lee is a student from Anaheim, CA. He is going into his senior at Purdue University double majoring in Animation and VFX. Evan will be assisting the 3D Animation Team. He loves bringing stories to life. In his free time, he enjoys running, playing video games, hanging out with family and friends. He has completed 4 marathons and won one half-marathon.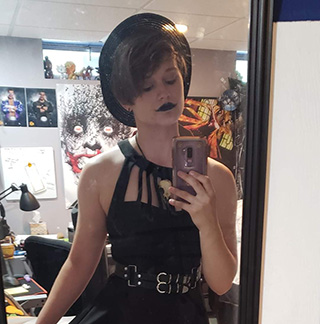 Elizabeth Nelson
Elizabeth Nelson is a recent graduate from College for Creative Studies in Detroit, Michigan with a Bachelor's of Fine Arts in Game Design. She will be assisting the 3D team in creating assets and animation. She loves using ZBrush and Maya to create her characters and creatures.
Joshua Goodstein
Joshua Goodstein is a senior Cinema Studies major at Purchase College. He is joining the RADProd team from New York as a content writer. His senior thesis research focuses on emotional identification and modes of signification in post-classical camp musicals of the late 20th century, with an emphasis on reflexivity and star studies. Joshua is a founding contributor and editor of Purchase College's student-run film journal CinemaRoll, where he writes a column pairing essays on some of his favorite films with original recipes.
Erin Conrad
Erin Conrad is from Wellington, Ohio–which is about an hour south of Cleveland. She is a content writing intern and will be working on creating content for the blog posts. Erin will be going into her second year of college in the fall and is majoring in Public Relations. She has experience with journalism and writing throughout high school and college. Erin loves to read and can actually get through an entire novel in just a couple days!