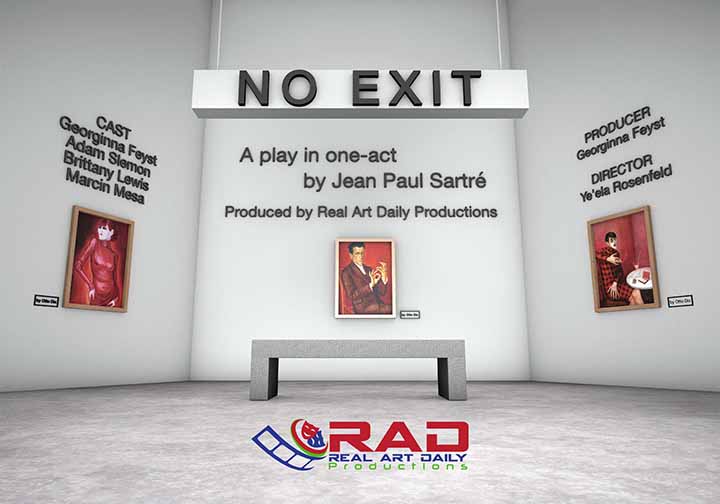 Real Art Daily (RAD) Productions presents Jean-Paul Sartrés "No Exit" as its inaugural production. No Exit presents a glimpse into the world of three strangers locked together in a room they hate for eternity. There is no escape: from the room, each other, and worst of all themselves. Directed by Ye'ela Rosenfeld with a set design inspired by Bauhaus and German Expressionism, we aim to immerse the audience into the characters' claustrophobic world. Join us for a bout of existential absurdity!
No Exit began its performance on March 16, 2018, and played through April 8, 2018. Each performance was preceded by a welcome reception 30 minutes before showtime and closed with a post show mix and mingle.
Read David MacDowell review here
 The Original Performance Dates
The Opening Weekend: Friday, March 16, 2018 – Saturday March 17, 2018 – Sunday March 18, 2018
Weekend 2: Friday, March 23, 2018 – Saturday March 24, 2018 – Sunday March 25, 2018
Weekend 3: Friday, March 30, 2018 – Saturday March 31, 2018 – Sunday April 1, 2018
Closing Weekend: Friday, April 6, 2018 – Saturday April 7, 2018 – Sunday April 8, 2018
The Venue
The Chromolume Theatre
5429 W Washington Blvd
Los Angeles, CA 90016
All performances were preceded by a 30 minute reception, and then a 30 minute mix-n-mingle.
Reception at Cafe De Flore in the lobby with Character-themed beverages and French concessions, including Halva, Sartre's favorite dessert.
Mix-n-Mingle followed the shows at Cafe De Flore in the lobby. We mix-n-mingle with new and old friends as well as producer, director and some cast and team members.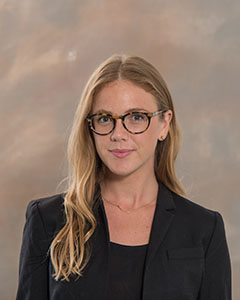 Ellie Anderson is Visiting Assistant Professor of Philosophy at Pitzer College in Claremont, CA. She is a specialist in twentieth-century French philosophy, including existentialism and phenomenology. Her research interests include the nature of selfhood, romantic love, and aesthetics. She has published peer-reviewed articles and translations in journals including the Journal of Speculative Philosophy, Oxford Literary Review, and the Stanford Encyclopedia of Philosophy. She received her B.A. from Trinity College in Hartford, CT, where she acted in a number of theatrical productions, before receiving her M.A. and Ph.D. in Philosophy from Emory University in Atlanta, GA.
On March 23rd, she spoke about Sartre and existentialism from a feminist perspective before the show.
On April 8th, she spoke about the playwright and existentialism before the show.
Dr. Dane Sawyer received his doctorate from Claremont Graduate University in 2012, with his dissertation entitled Nothingness and Différance: Sartre and Derrida on Freedom and Responsibility. His research focuses on the continued importance of existentialism in a contemporary philosophical context, in particular, by utilizing cognitive science, contemporary philosophy of mind, and Buddhist mindfulness meditation to understand and examine the nature and structures of consciousness. Currently Senior Adjunct Professor of Philosophy and Religion at the University of LaVerne (U.S.A.) , Dane teaches courses in philosophy, philosophy of religion and eastern religions.
On March 17th and April 6th, he spoke about the playwright and existentialism before both shows.