Post-Production Services for Georgia
Post-production facilities to help independent filmmakers & small business owners
Real Art Daily (RAD) Productions is a full service post-production house. While based in L.A., we provide online video production and editing services across the country, including Georgia. Independent filmmakers and small business owners can outsource their post-production service with us remotely.
Georgia's beautiful scenery, its high traffic airport, tax incentives and most importantly, dedicated crews make it the largest state in the U.S. for film and video production, aka the Hollywood of the South. It also has a thriving independent arts community in Atlanta and throughout the state- from its great variety of music, visual and performing arts communities, and of course independent filmmakers, Georgia is a pioneering voice in American art.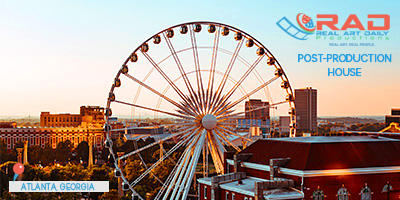 An Exceptional Video Post-Production Company
Our video production company is devoted to the art of storytelling and to the representation of diverse and marginalized voices. So, when independent filmmakers and small business owners of Atlanta and other Georgia cities need help perfecting their vision and presenting themselves in a creative and unique way, Real Art Daily (RAD) Productions should be the first choice.
Our professional video editing services, affordable prices, and our personal investment in helping your project succeed make us an exceptional online video post-production service for Georgia filmmakers.
Our Post-Production Services in Georgia

After you've finished creating your original film or commercial, you might look at your footage and realize it needs skilled post-production professionals, even with all the effort you've put into it. By outsourcing the final steps of video production to a company like Real Art Daily (RAD) Productions, you can enjoy the benefits of video editing, color correction, color grading, and sound editing.
Video Editing
Video editing is the most important process of post-production to create a cohesive and compelling narrative. By organizing your footage in the best order and trimming unnecessary or flawed takes, we can ensure your vision is clear and impactful. With our post-production studio providing remote service for Georgia, video editors can fine tune the raw footage into the best possible presentation for your story or business.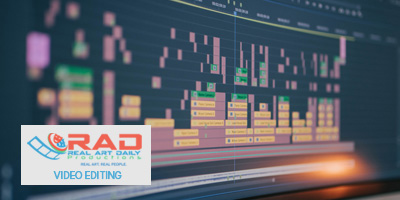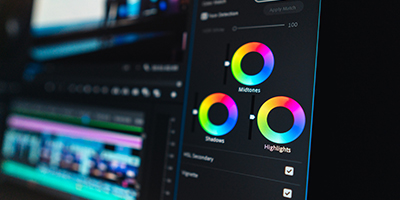 Color Correction & Grading
Most raw footage, no matter how good the director and equipment, is not immediately perfect in its coloring. Coloring doesn't always get the attention it deserves in video post-production. With color grading and correction, we can improve coloring and lighting errors. These services can also be used creatively to add production value and atmosphere or mood to your production.
Sound Editing & Design
With sound editing, our editors can take on one of the most common problems facing an independent or lower budget production. Sound editing is an essential puzzle piece of post production services and gives a professional edge to your video that it can't do without. We work with industry-standard techniques and software to achieve high quality sound throughout and an added professional quality.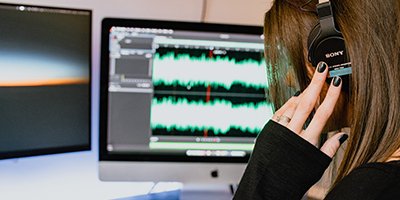 Diversity & Representation

Real Art Daily (RAD) Productions is devoted to uplifting original and marginalized voices. Our small post-production company is made up of creative and passionate people of a wide range of races, cultures, genders, sexualities, and backgrounds. The inclusivity of our company also guarantees considerate, open-minded and empathetic engagement with you and your production.
Budget Friendly
As an online post-production house, we are a budget friendly option, but our production studio is equipped with Industry standard editing software, Adobe Premiere Pro and various sound editing tools. Our priority is to encourage and assist Georgia's independent filmmakers and small business owners, and our skillful craftsmanship at great prices puts the focus on allowing your work to shine through.
Passionate & Creative Professionals
Our employees are our greatest asset and should be a deciding factor in your search for a remote post-production house as a Georgia fillmaker. Our talented, passionate, and reliable creative professionals share your goal to perfect your vision and bring new art to life. With their technical skill and creativity, these professionals make our video editing services a great choice.
A Personal Investment in Your Project
The personal attention that RADProd is able to give to your specific production, whether it's a commercial or an independent film means we can go above and beyond in our post-production services. As a remote video editing company with stellar communications, any questions or requests about your project can be handled promptly and personally.
Outsource Your Post-Production Editing Services in Georgia
As an established video production company with our own successful, award-winning projects (such as our award winning web series Americans Abroad) our goal is to uplift and contribute to innovative and original art and businesses. We want to combine our creative energy with yours, in order to create the best possible production. Our post production editing services are our way of connecting creative minds across the country with the aim of creating something great together.
Georgia has been an inspiring state this year in the grassroots Black voter movement, its protests defending Black lives, and its fight against COVID-19. The resourceful, caring and hardworking people of Georgia, from business owners to filmmakers, or any member of a Georgia community can rely on Real Art Daily (RAD) Productions to outsource video content.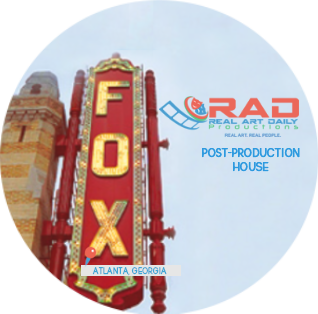 Some Post-Production Related FAQ
How Are My Files Protected?
At Real Art Daily (RAD) Productions, we have experience in video production, so we understand there is a lot of time and effort that goes into pre-production and video production. Because of this, it is extremely important to us that your files are protected. Files will be uploaded to a google drive as backup and regular backups made to premiere files at the end of each work day. This adds that extra protection to put your mind to ease, and assure the safety of your files.
How Do We Share Our Footage?
Raw Footage will be transferred via wetransfer, a simple, safe, and user-friendly site, to us. As we edit, there will be new cuts uploaded privately to vimeo for you to view each new cut. Once the final cut is finished, approved, and ready to go we will transfer the project back to you through wetransfer.
Is Music Included?
Royalty-free music will be used and included in the price. However, if you are wanting music composed for your project, our talented composer, Natalia, will be able to provide excellent original music to fit your project. Due to immense time and effort, custom music would cost additional.
What is the Turnaround Time?
Editing is time-consuming, and we want to make sure that we give you the absolute best product possible. We are dedicated to not rushing through your project, but also returning your project in a timely manner. Turnaround time is all dependent on the length of the project and what is required. We will make sure to work in a timely manner and get your edited video back to you before the deadline that works for both parties.
What Editing Software Do You Use?
At RADProd, we use Adobe Premiere Pro to edit videos. Premiere is the industry-standard program that produces quality, professional editing that is ideal for all types of videos. Our team is extremely talented and knowledgeable in Premiere.
Contact Us To Get A Free Quote